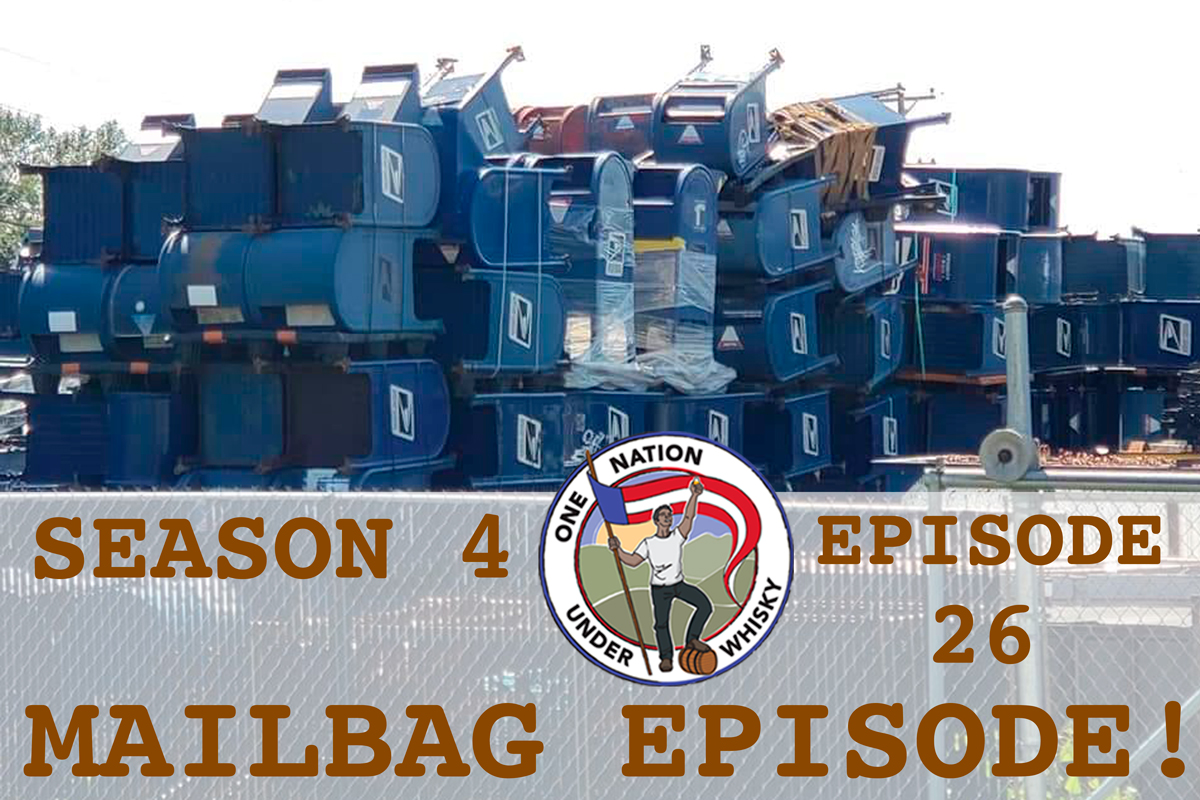 One Nation Under Whisky
Season 4, Ep 26 -- 10 February, 2021
Season 4 Finale and Mailbag Episode
Another year, another Mailbag episode. Joshua and Jason received a record number of email questions. Listen in as you listeners challenge the two J's on all things whisky (and otherwise). If you're lucky you may spot a somewhat family friendly dick joke or five.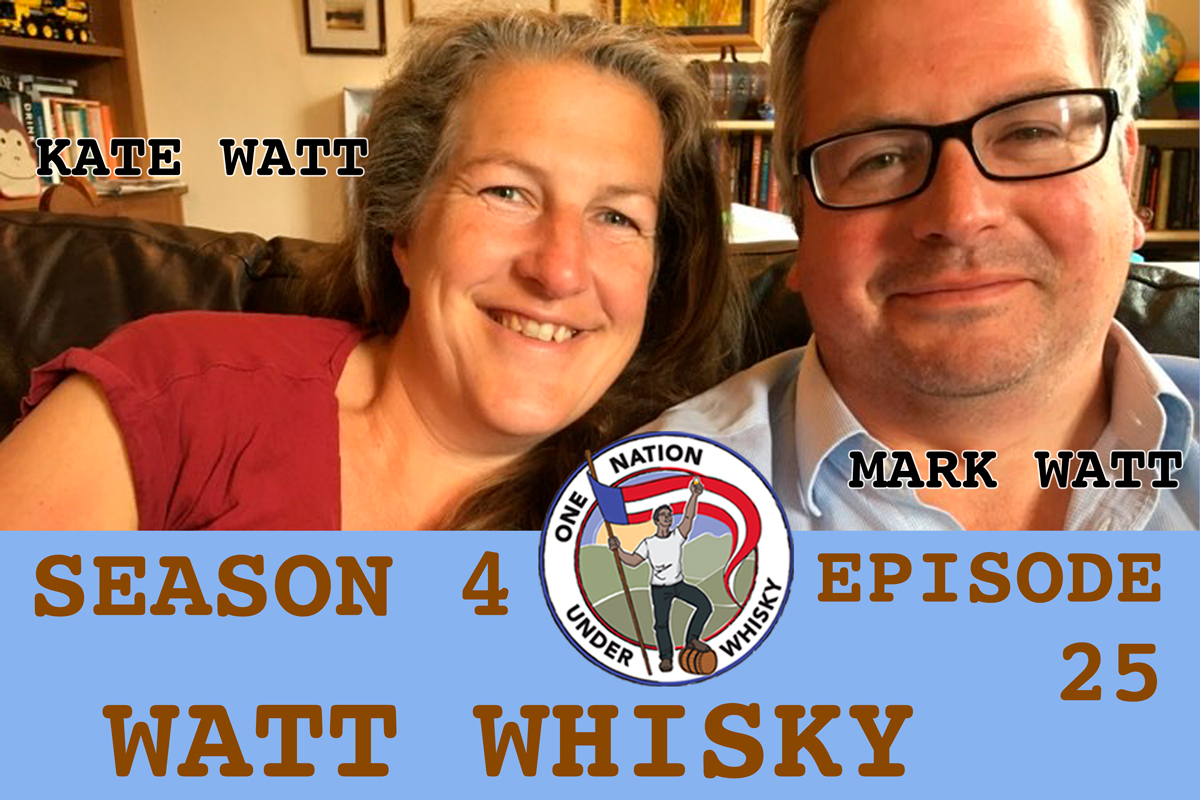 One Nation Under Whisky
Season 4, Ep 25 -- 27 January, 2021
Watt Whisky with the Watts
Joshua and Jason have a sit down with two friends, Kate and Mark Watt, to discuss what it's like establishing and growing your own independent bottling company: The Campbeltown Whisky Company whose brand is Watt Whisky.
With Kate having previously worked at both Glenfarclas and Springbank, and Mark, having worked at Duncan Taylor and Cadenhead's (among others) we'd say they had a bit of knowledge giving them a nice head start.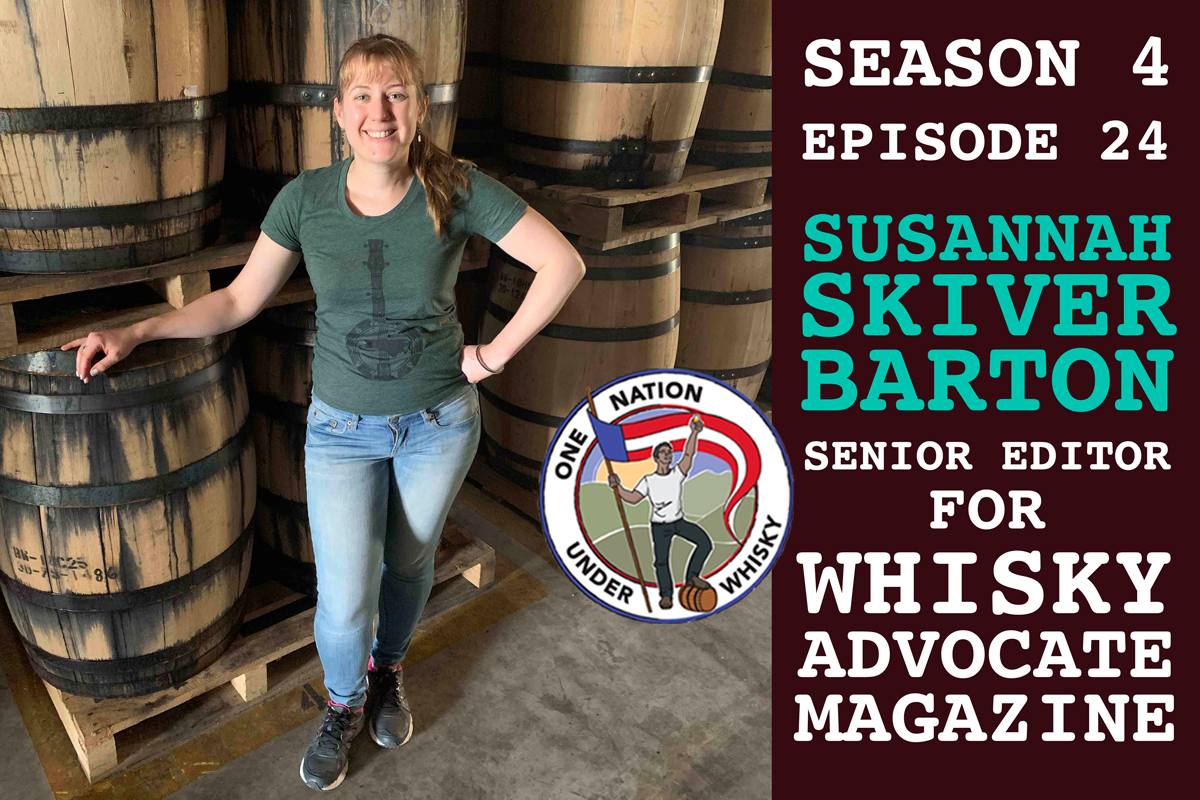 One Nation Under Whisky
Season 4, Ep 24 -- 13 January, 2021
Susannah Skiver Barton, Senior Editor, Whisky Advocate Magazine
Speaking with someone who has their finger on the pulse of the entire whisky industry is always a treat and Susannah Skiver Barton is always that someone for Joshua and Jason. Erudite and insightful as well as thoughtful and funny spending any time with SSB (as the boys affectionately refer to her!) is time very well spent.
In their conversation they discussed how 2020 severely impacted the whisky industry, what needs to be done to make sure we encourage more women and people of color to join us in our whisky circles, and predict what lies ahead in 2021. And they certainly shared a few laughs along the way.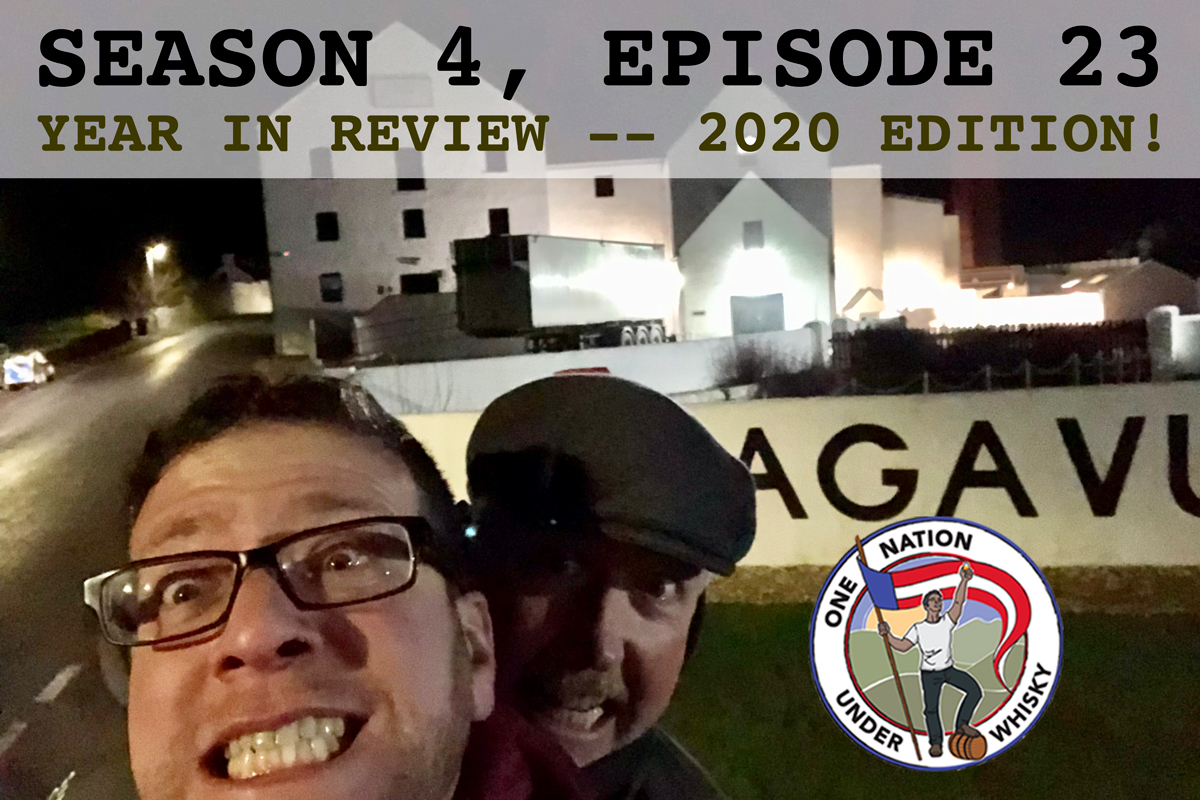 One Nation Under Whisky
Season 4, Ep 23 -- 30 December, 2020
Year in review, 2020 edition!
2020 was a steaming pile of shit for nearly everyone on the planet. There were some high points, however, that Joshua and Jason wished to discuss (including their favorite whiskies and non-whiskies of the year) and did so by using more words than normal hence the longest episode they've ever released.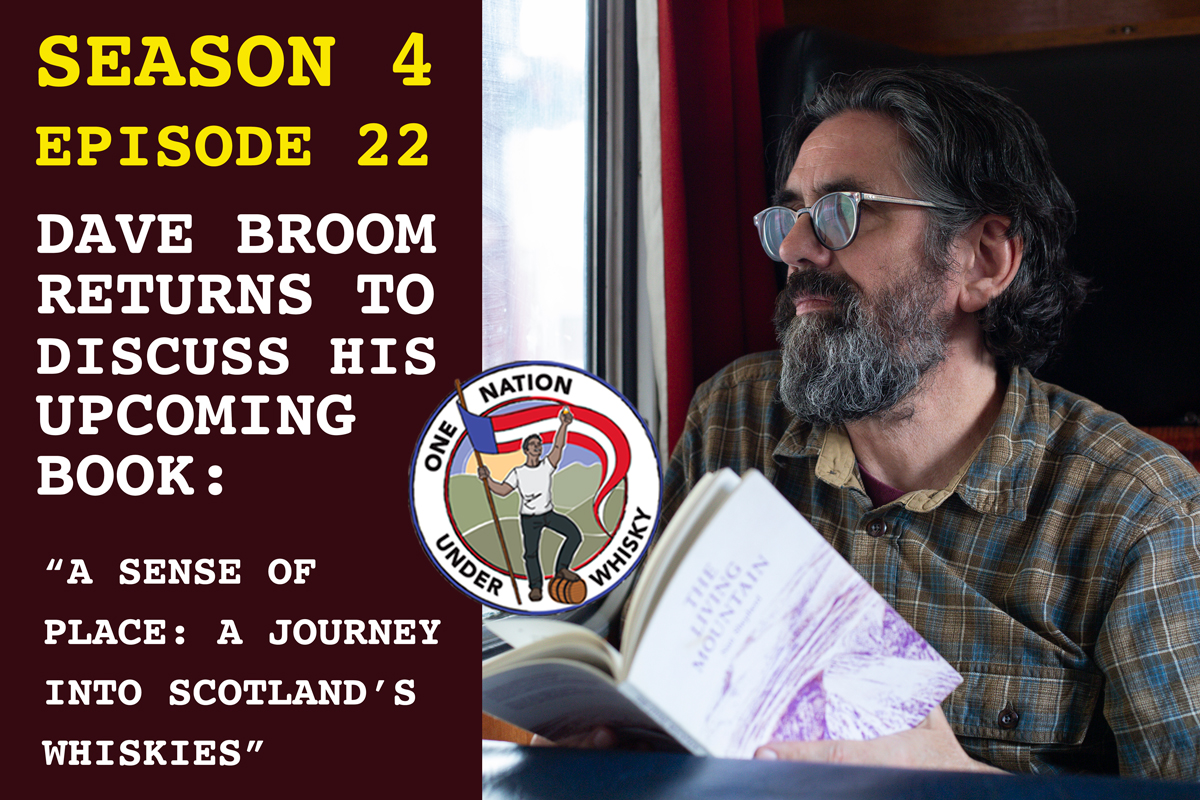 One Nation Under Whisky
Season 4, Ep 22 -- 16 December, 2020
Dave Broom Returns to discuss his upcoming book
It's official! Dave Broom is on a very short list of two-timers (by which we mean Dave has now been on our podcast for a second time).
Joshua and Jason were honored that Dave Broom would come back to discuss details of his new book "A Sense of Place: A Journey into Scotland's Whiskies," among many other topics including "2020... what the fuck was that all about?!"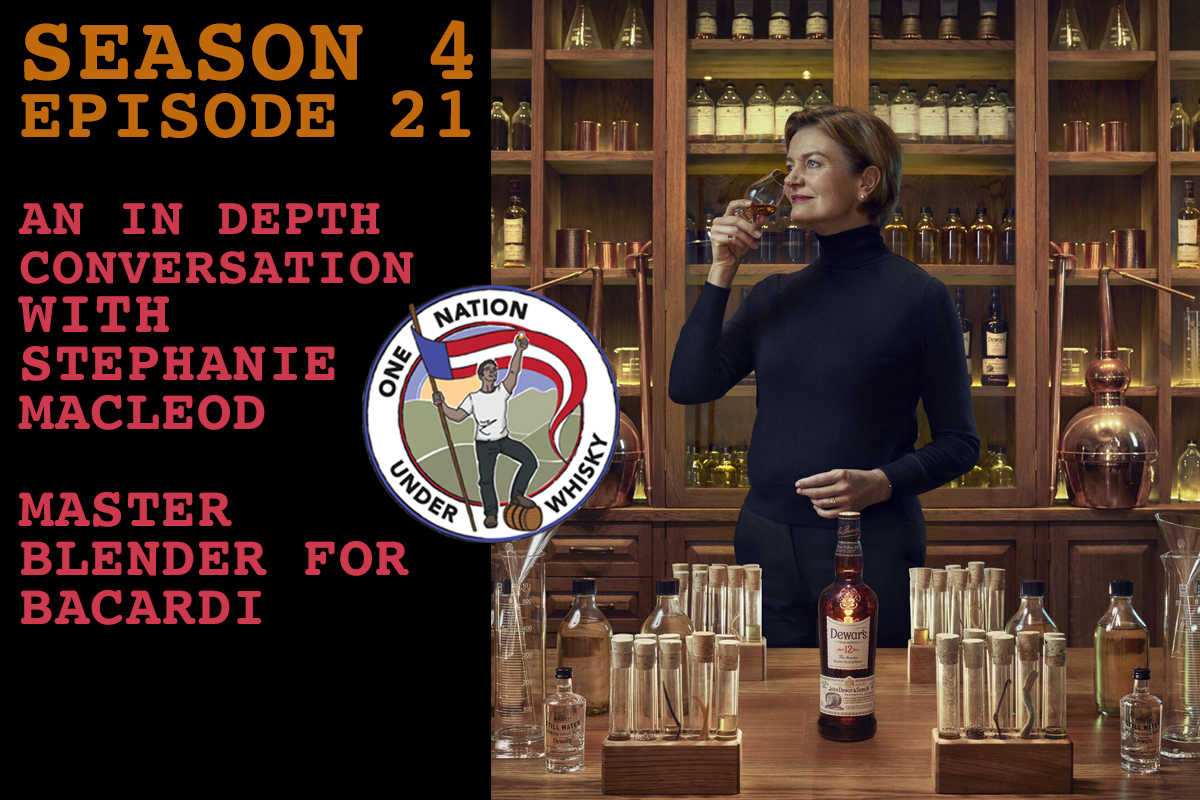 One Nation Under Whisky
Season 4, Ep 21 -- 2 December, 2020
Stephanie MacLeod, Master blender for Bacardi
One of the biggest names within the Scotch whisky industry: Stephanie MacLeod. Stephanie is the Master Blender for Bacardi and is in charge of blending for the various Dewar's blends as well as for Bacardi's malt distilleries; Aberfeldy, Aultmore, Craigellachie, Macduff (The Deveron), and Royal Brackla. Stephanie was an absolute joy and a brilliant teacher to Joshua and Jason and, by extension, you, the listener. This was an absolute belter of a conversation so get your whisky geek hat on and strap in!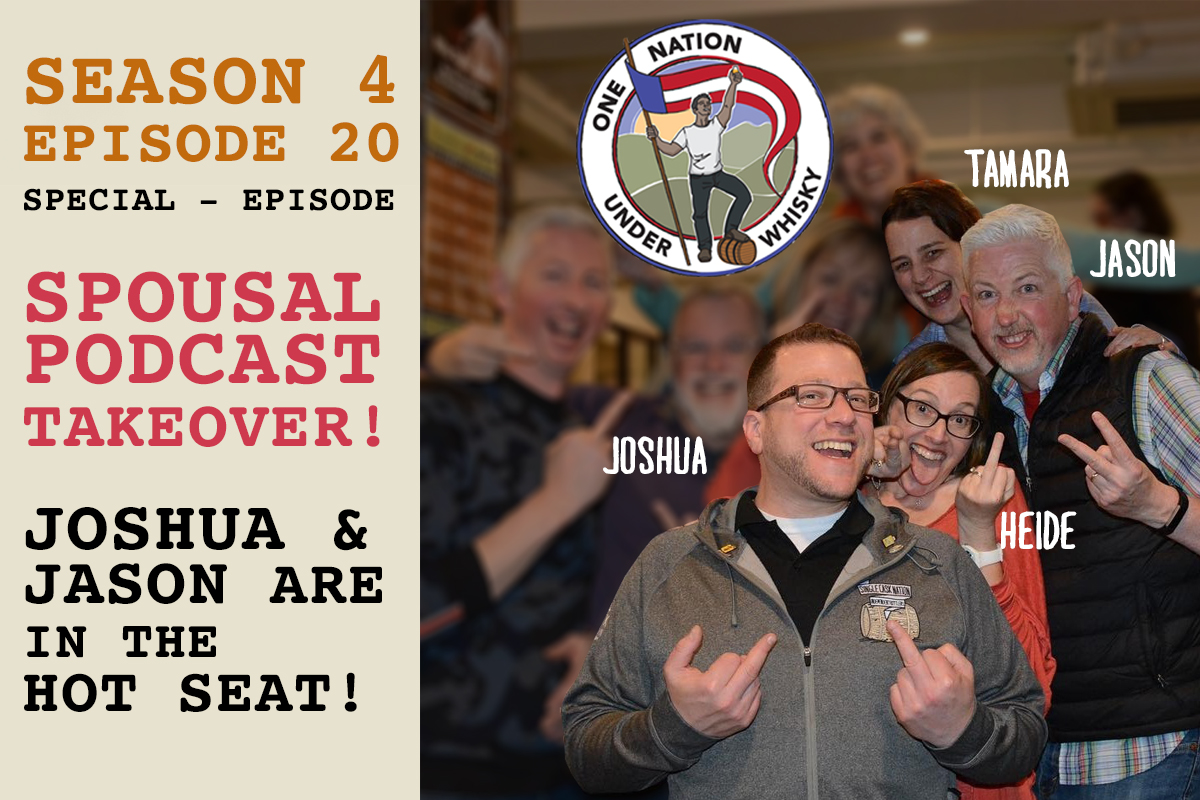 One Nation Under Whisky
Season 4, Ep 20 -- 18 November, 2020
SPECIAL THANKSGIVING SPOUSAL TAKEOVER EPISODE
Thanksgiving is all about family, blah, blah, blah... Joshua and Jason's wives have taken over the podcast and put the boys in the hot seat. Not only did they have their own questions but they fielded listener questions, too!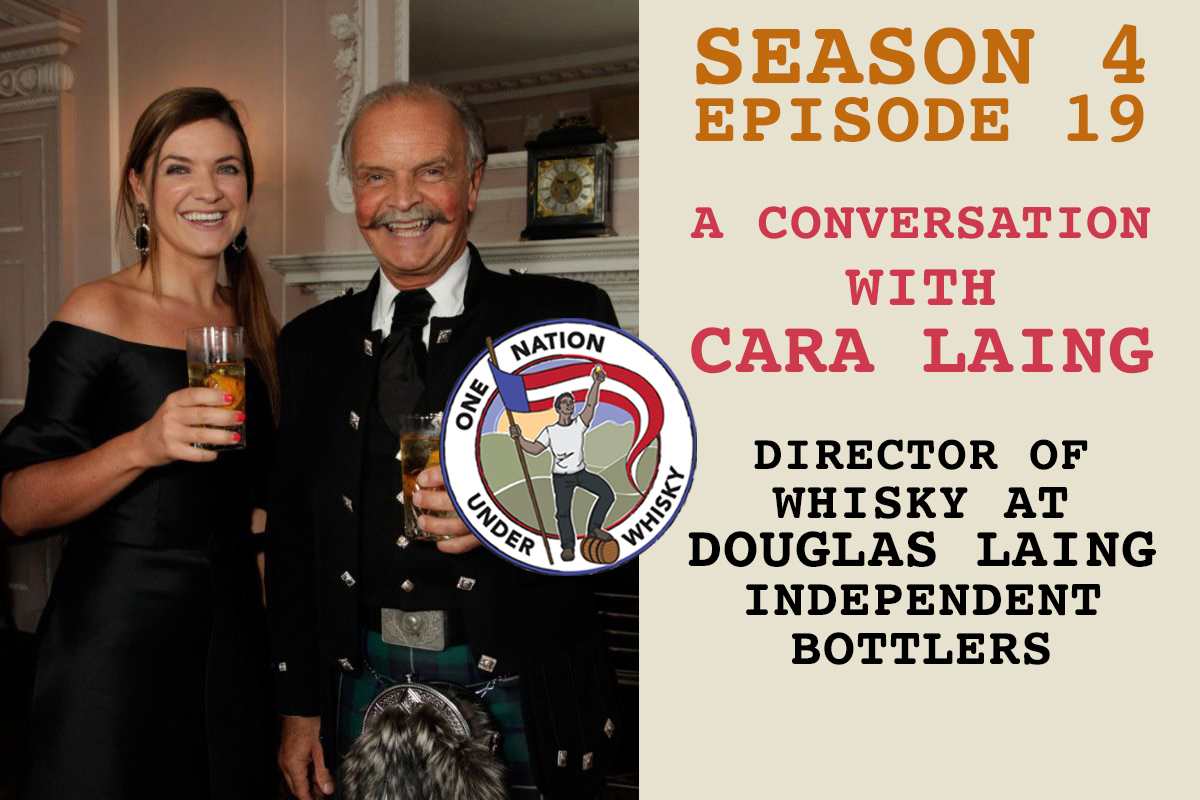 One Nation Under Whisky
Season 4, Ep 19 -- 4 November, 2020
Cara laing, director of whisky, douglas laing
Getting back into discussions of independent bottling is always Joshua and Jason's comfort zone. It's been a while since the pair had an independent bottler on the padcost so it was important to bring in some independent bottling royalty. Enter: Cara Laing, Director of Whisky at Douglas Laing.
Independent bottling isn't always the glamorous thing people perceive it as. Sometimes, scratch that, most of the time you're dealing with headaches surrounding dry goods, 3rd party warehousing, and label typos.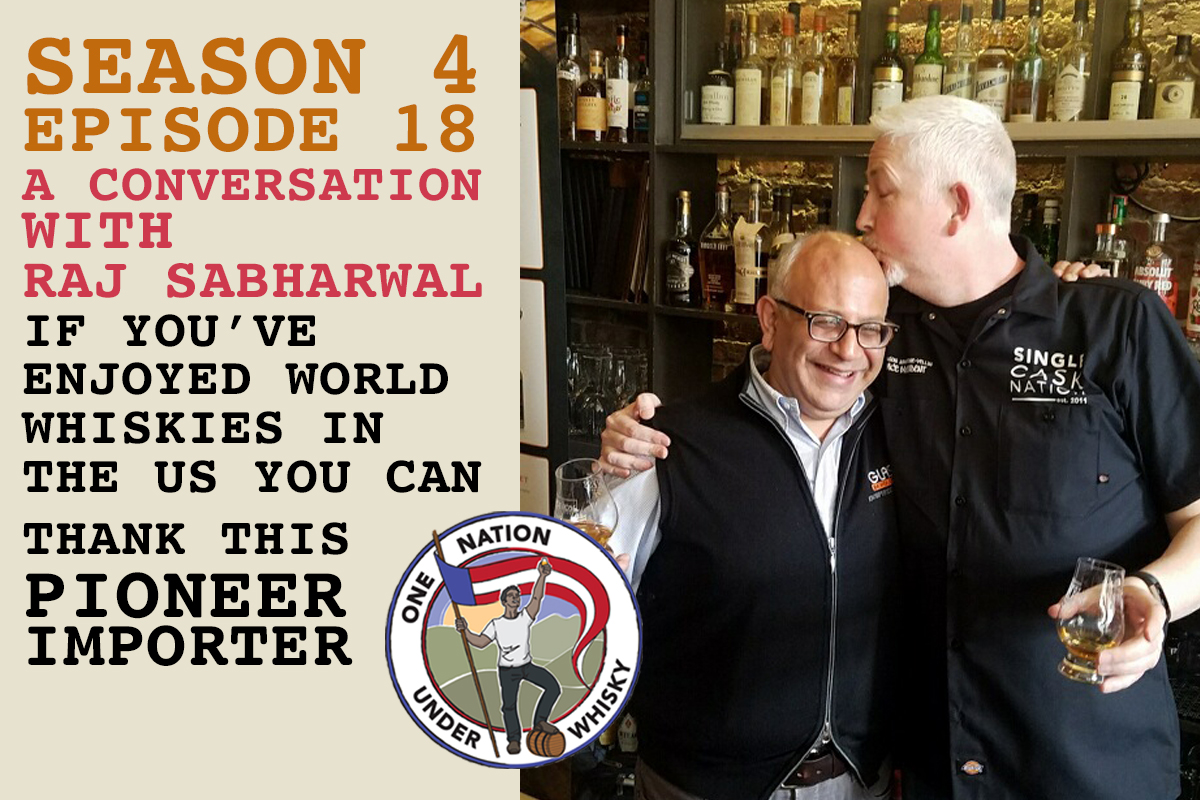 One Nation Under Whisky
Season 4, Ep 18 -- 21 October, 2020
World whiskies with Raj Sabharwal
Something not often discussed on One Nation Under Whisky -- world whiskies, and, more specifically, what it means to import world whiskies into the US and how to grow these brands on US soil.
It's not an easy task but somehow Raj Sabharwal, a true pioneer in the importation of world whiskies into the US, make it look so.
Joshua and Jason have a conversation with their dear friend Raj.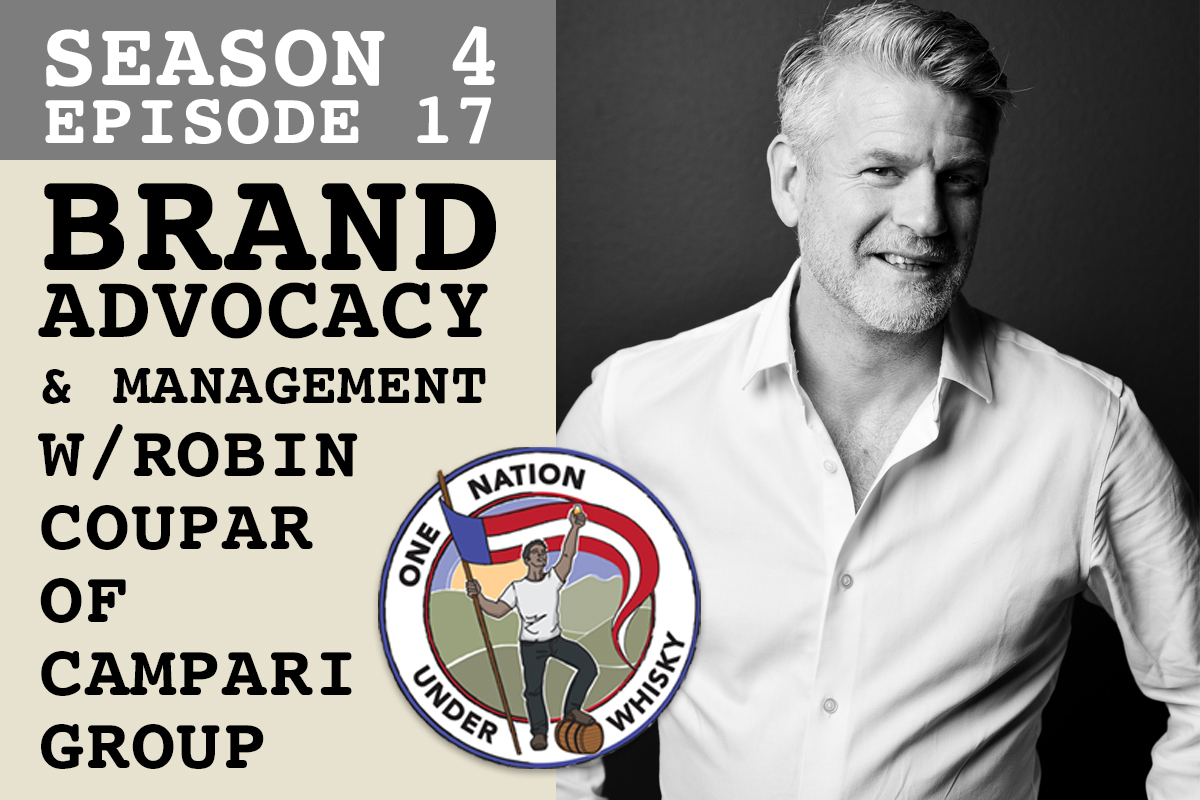 One Nation Under Whisky
Season 4, Ep 17 -- 7 October, 2020
Brand Advocacy & Management w/Robin Coupar of Campari Group
In today's episode Joshua and Jason have a good sit down with whisky legend Robin Coupar. When someone thinks "whisky legend" they usually picture the master distiller, master blender, or distillery manager. It's not often one thinks about a Brand Manager or Brand Advocate as a whisky legend. However, in the case of Robin Coupar, his status being legendary is apropos. If at any point in your whisky journey you've discovered brands like Glenrothes, Wild Turkey, Yamazaki, Glen Grant, Appleton Estate, Forty Creek and more, you can thank, in good part, Mr. Coupar. Know it or not, Robin is the person who helped you discover these great brands.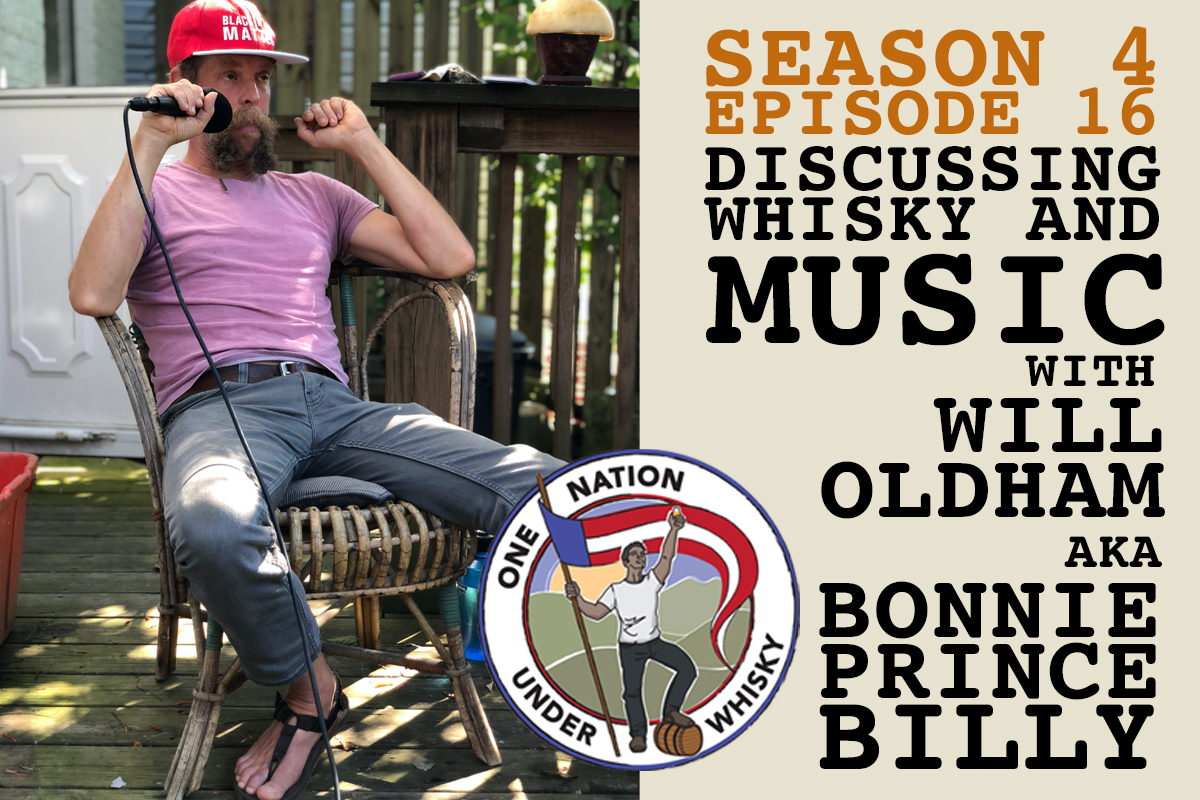 One Nation Under Whisky
Season 4, Ep 16 -- 23 September, 2020
Whisky and music with will oldham aka bonnie 'prince' billy
Another slight detour from your every-other-week whisky podcast; on today's episode Joshua and Jason welcome one of their favorite musicians of all time: Will Oldham aka Bonnie 'Prince' Billy. Both chaps were introduced to Will Oldham, his music, and his acting in the mid-90's. Discussing music and whisky (as well as movies) with one of their musical heroes? Yeah, it wasn't such a bad way to spend a Tuesday afternoon in the hot Kentucky sun.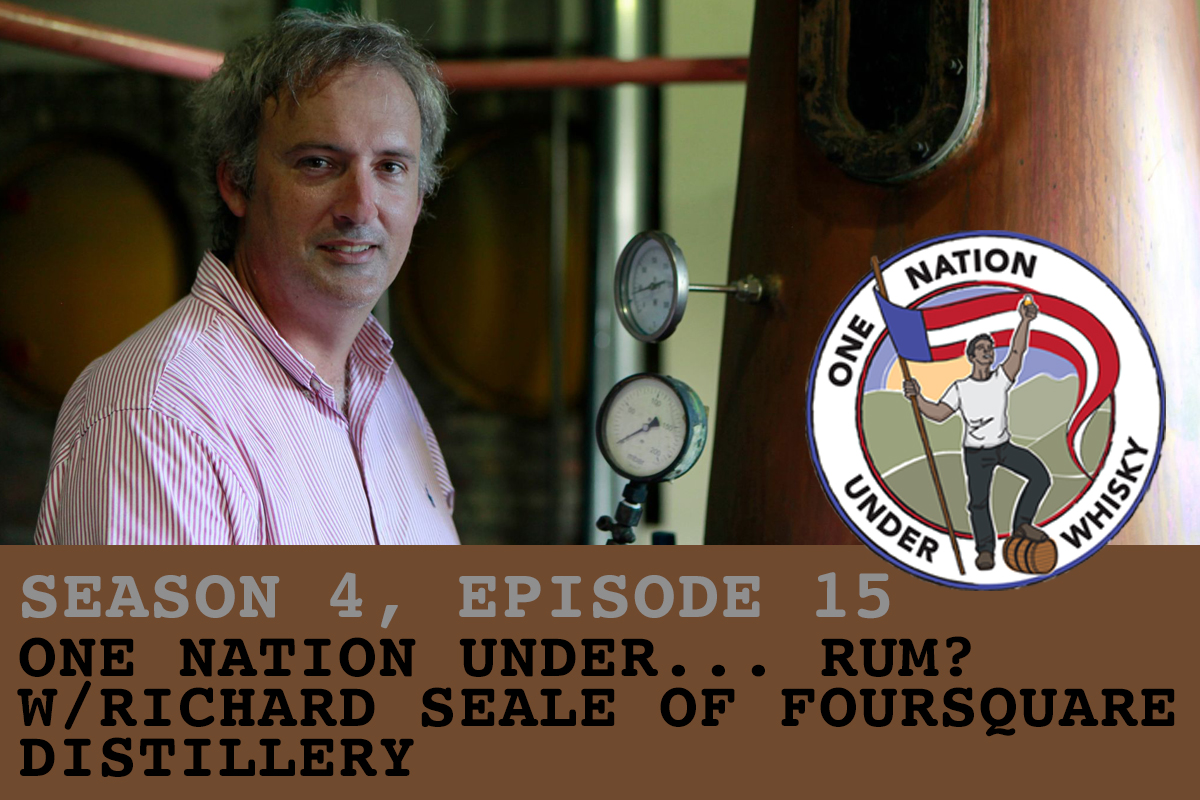 One Nation Under Whisky
Season 4, Ep 15 -- 9 September, 2020
Richard Seale of Foursquare Rum Distillery
Joshua and Jason take you, the listener, back down the rum rabbit hole. This time around we've got the irrepressible and inimitable Richard Seale of Foursquare distillery in Barbados as our tour guide. We hope you enjoy the conversation as much as we enjoyed having it!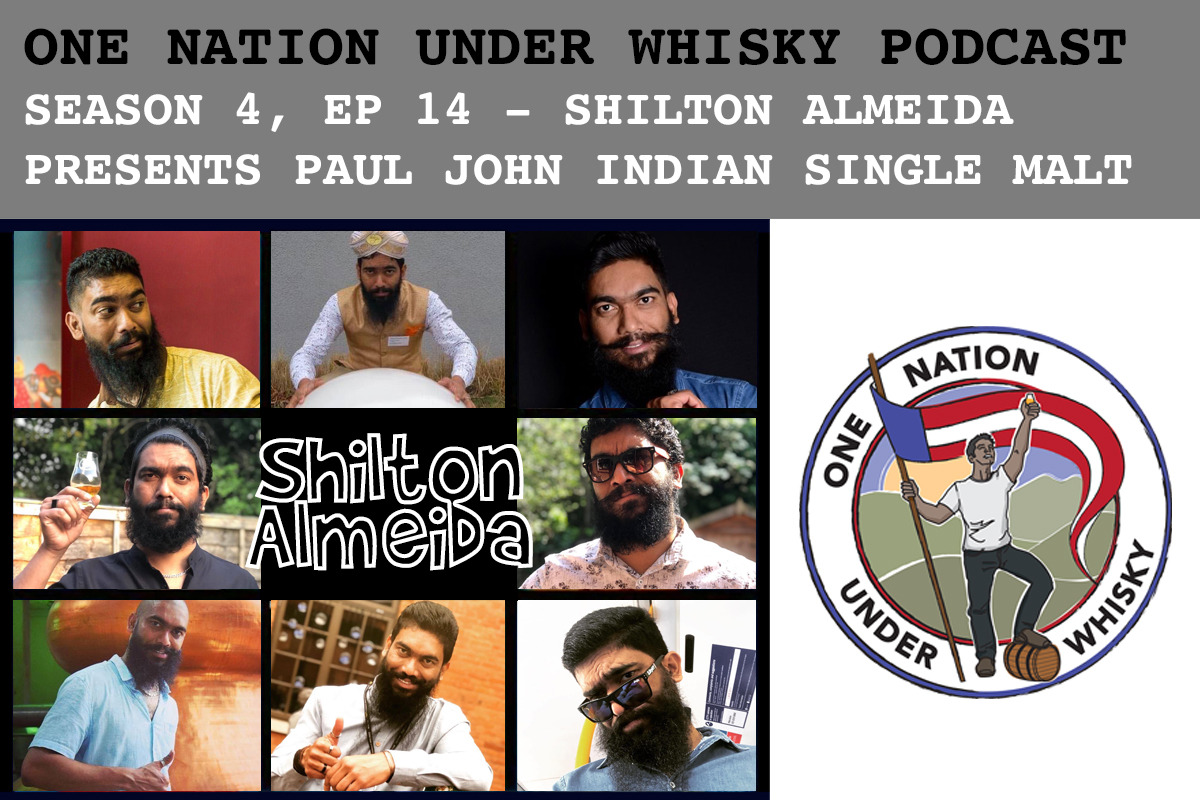 One Nation Under Whisky
Season 4, Ep 13 -- 26 August, 2020
Discussing Paul John Single Malt with Shilton Almeida
Joshua and Jason love it when the wide world of whisky grows wider and further (and better). Brands like Amrut, Yamazaki, Nikka, etc... have surely paved the way for countless "world whisky" distilleries growing in popularity. The wide world of whisky has grown larger with Paul John in it, too -- the boys are just getting caught up. They needed to learn and who better to learn more about Paul John from? The inimitable Shilton Almeida.
Ladies and gents -- you're in for a treat!
One Nation Under Whisky
Season 4, Ep 13 -- 12 August, 2020
DAVID JENNINGS, AUTHOR OF AMERICAN SPIRIT: WILD TURKEY BOURBON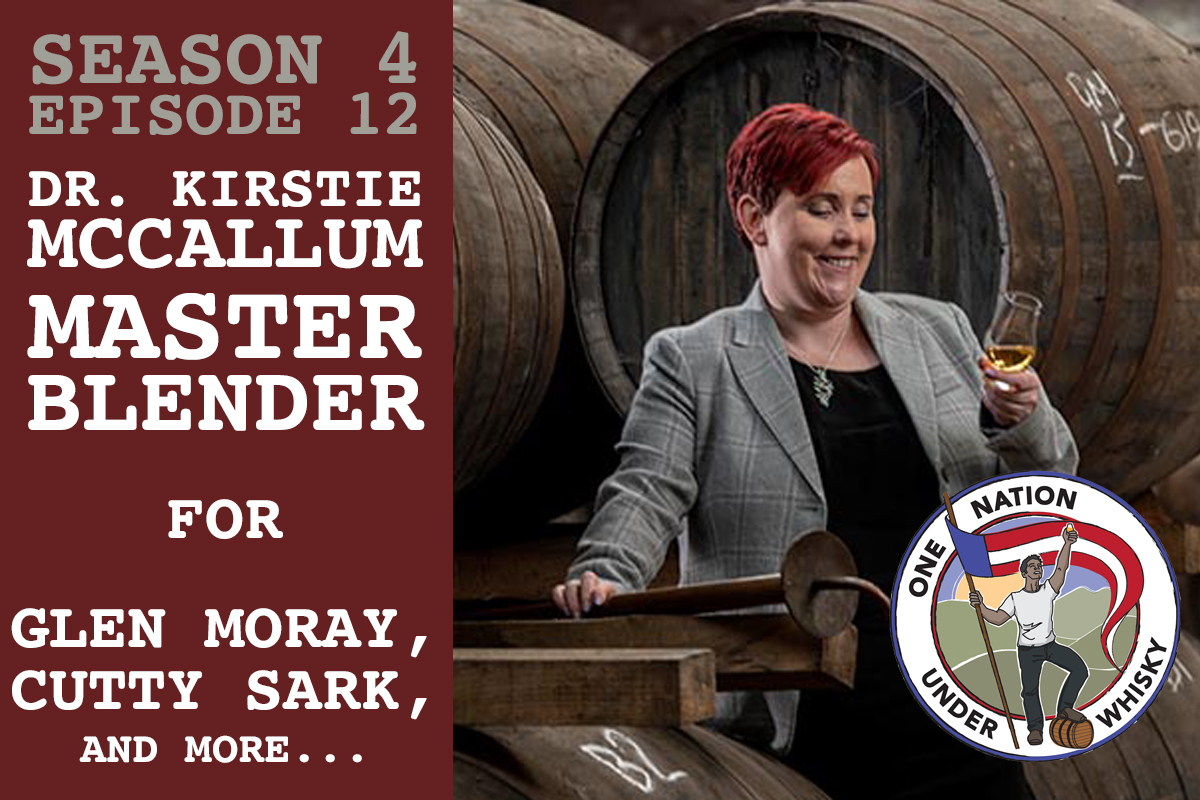 One Nation Under Whisky
Season 4, Ep 12 -- 29 July, 2020
Dr. Kirstie McCallum, Master Blender for Glen Moray, Cutty Sark, and more...
A bright star in the Scotch whisky world, Dr. Kirstie McCallum, Master Blender for Glen Moray, Cutty Sark, and more, sits down with Joshua and Jason to detail her 20 (thus far) years in the whisky industry.
A bonus for the true whisky nerds: she brings the boys through the ins and outs of blending processes, wood management policies, and grain distillation and how it differs from malt distillation.
Put your learning hats on because it's about to get real up in here!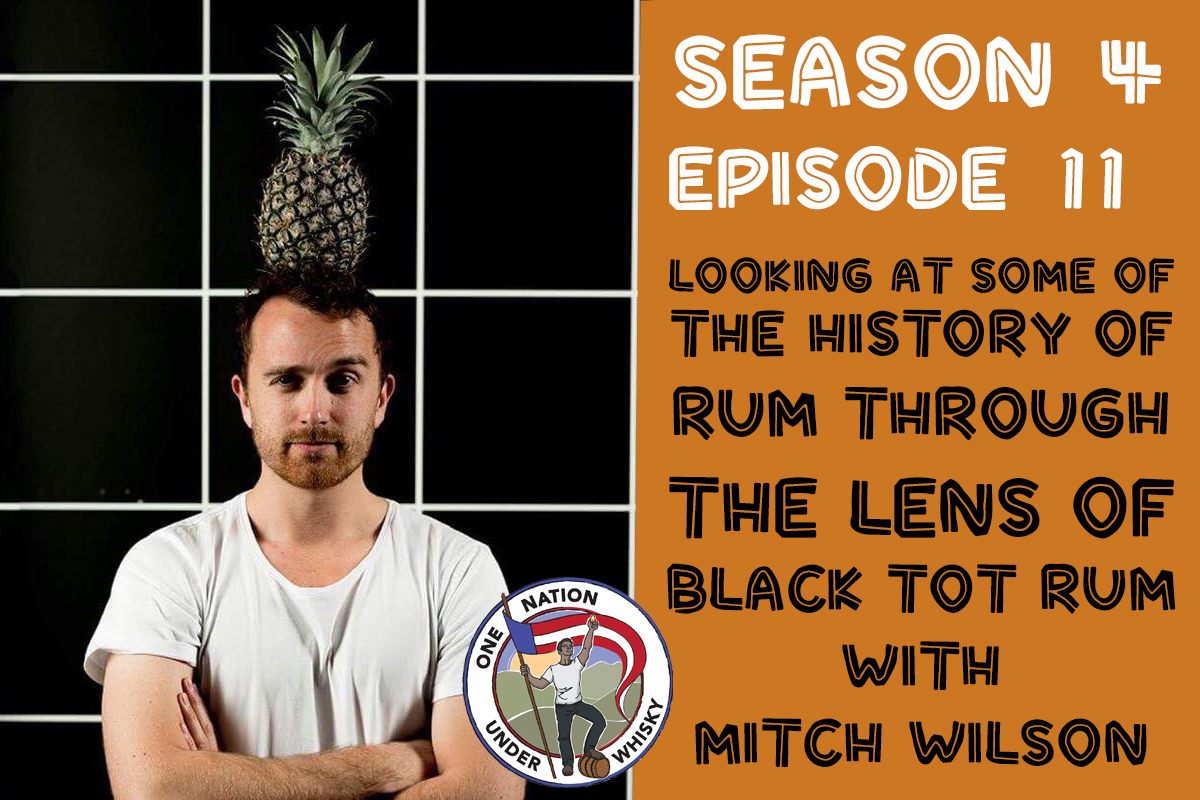 One Nation Under Whisky
Season 4, Ep 11 -- 15 July, 2020
Rum history with black tot's own Mitch Wilson
It would seem that the more Joshua and Jason talk to people about whisky the more people start asking "hey, what do you think of rum?" The boys noticed this more and more. It would make sense; the two have been bottling rums since 2017.
What do they think of it? They know they love it but they also understand there's so much about rum they simply know nothing of. How best to remedy that? Ring up Rum Whisperer Mitch Wilson!
Today's conversation with the inimitable Mitch Wilson is a wider conversation about the rum world writ large but also focuses on rum history through the lens of the brand he represents: Black Tot.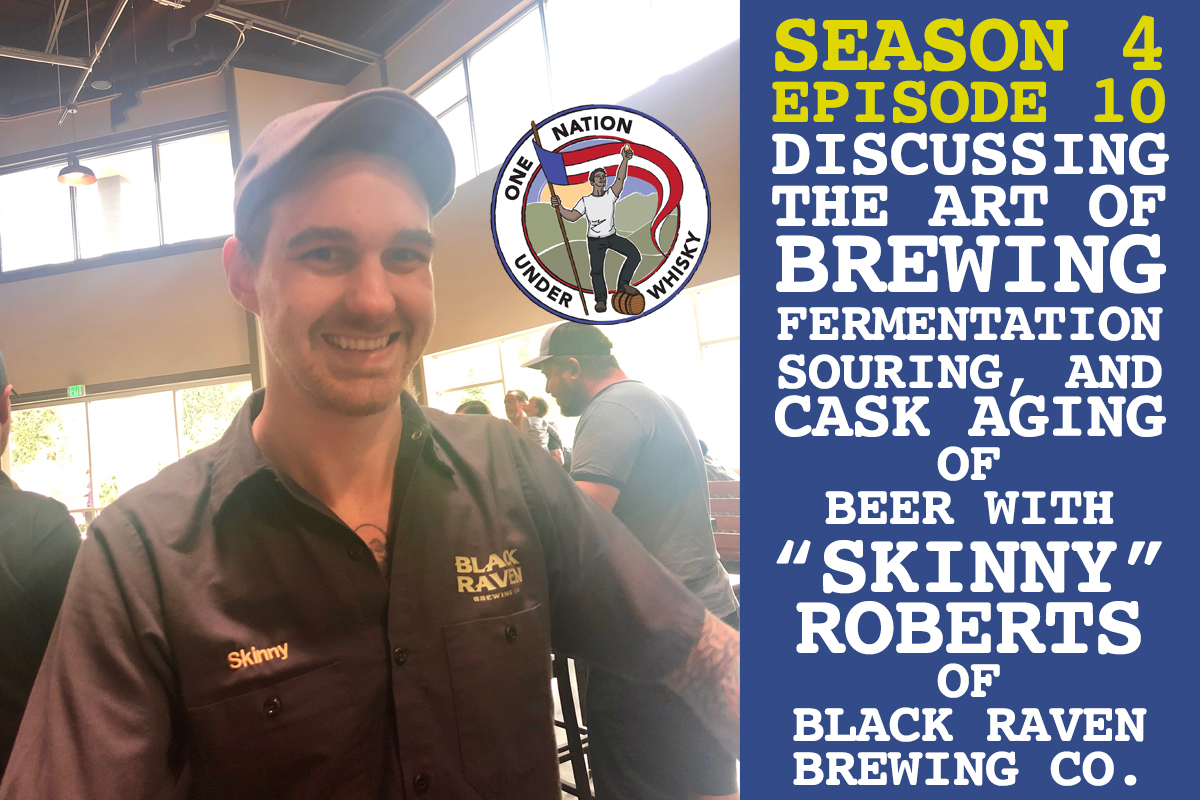 One Nation Under Whisky
Season 4, Ep 10 -- 1 July, 2020
The art of brewing, fermentation, and cask aging of beer with Skinny Roberts
Joshua and Jason join Matt "Skinny" Roberts on a detour into beer. Well, seeing as whisky is just beer that's been distilled and aged, perhaps not so much of a detour but a deeper dive into fermentation? Sure. That sounds about right. Right?
The boys have had Skinny on the podcast before during the live Westland episode in Season 2. Listen in as they enjoy a long form and super geeky conversation with Black Raven Brewing Co's very own Matt "Skinny" Roberts.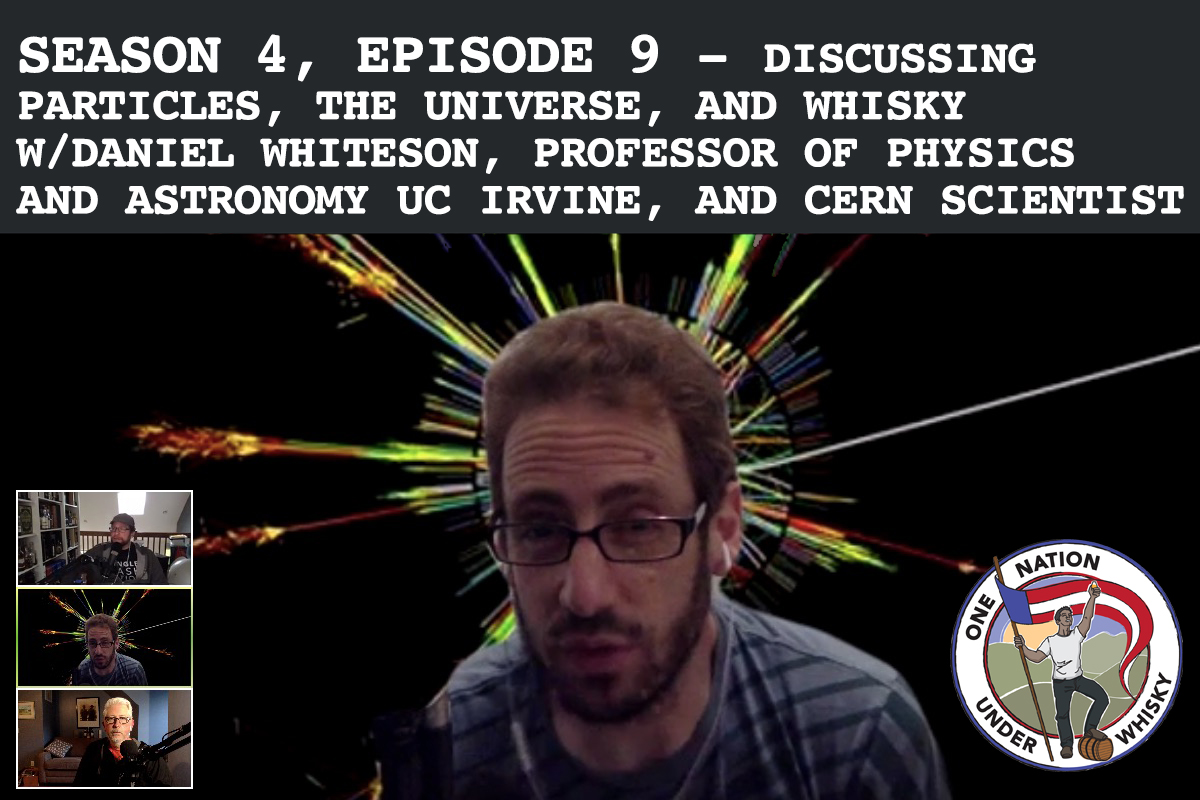 One Nation Under Whisky
Season 4, Ep 9 -- 17 June, 2020
Discussing particles, the universe, and whisky with Daniel Whiteson, PhD
As you know, Joshua and Jason like to take a detour from whisky now and again. In previous episodes the boys interviewed Garth Ennis (writer of the cult classic comics Preacher and The Boys, now major TV shows on AMC and Amazon, respectively), Adal Rifai (comedian and Chuntttttt from Hello from the Magic Tavern), and Matthew Rhys (Emmy Award winning actor from The Americans, The Post, and A Beautiful Day in the Neighborhood).
Today's detour takes us out of this world! Well, out of the whisky-world and into the great wide world of particle physics and The Universe... The guest today is famed Particle Physicist Daniel Whiteson. Daniel, and his good friend Jorge Cham, creator of PhD Comics, co-host the podcast "Daniel and Jorge Explain The Universe". They're also the co-authors of We Have No Idea: A Guide to the Unknown Universe. If you'd like, you can watch Daniel's TED Talk HERE.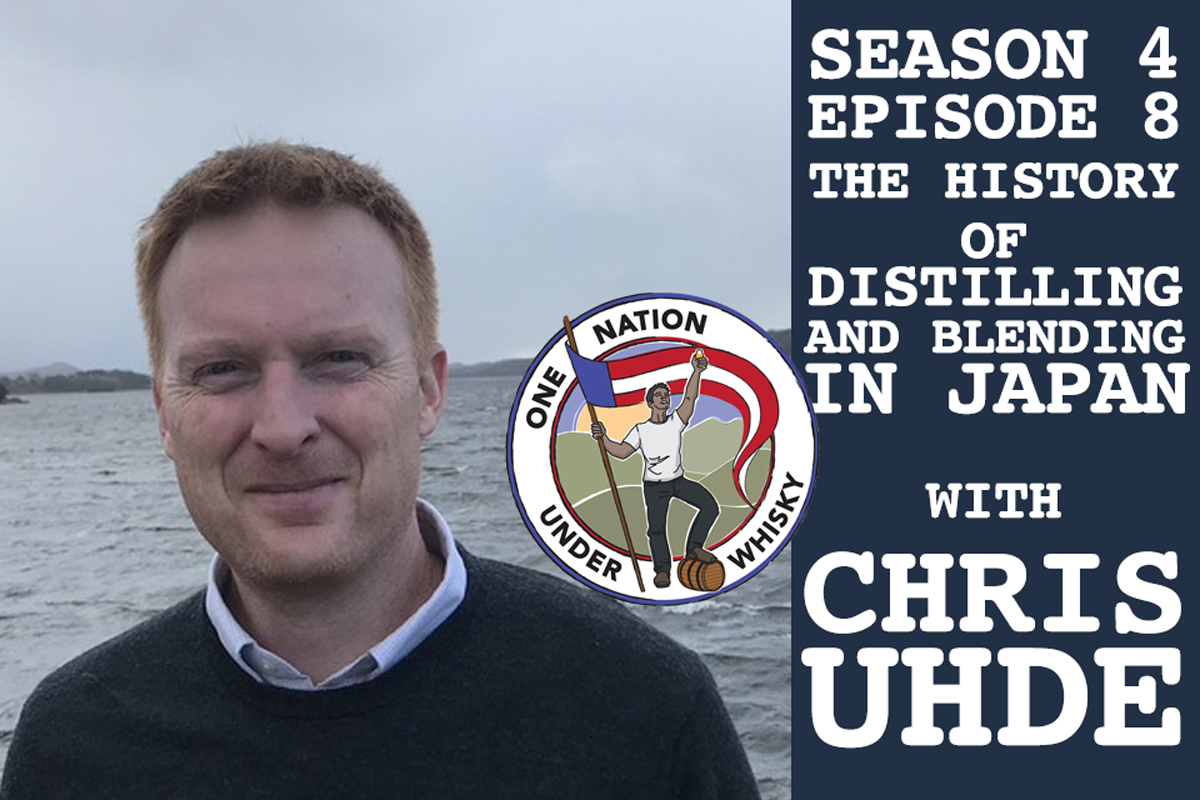 One Nation Under Whisky
Season 4, Ep 8 -- 3 June, 2020
The history of distilling and blending in Japan with Chris Uhde
Most whisky drinkers think of distillation began in Japan in the early 1920's when Yamazaki & Nikka began producing their single malts. However, distilling in Japan has been happening since the 15th century.
Japan's history of distillation is just as expansive and rich as distillation in countries such as Scotland and Ireland but their tradition is rarely discussed because, in part, the history was not very well kept or has not been translated into other languages.
Please join us as Chris Uhde, Vice President of ImpEx Beverages, takes us through the timeline of distilling in Japan as well as the Japanese predilection to blending whisky.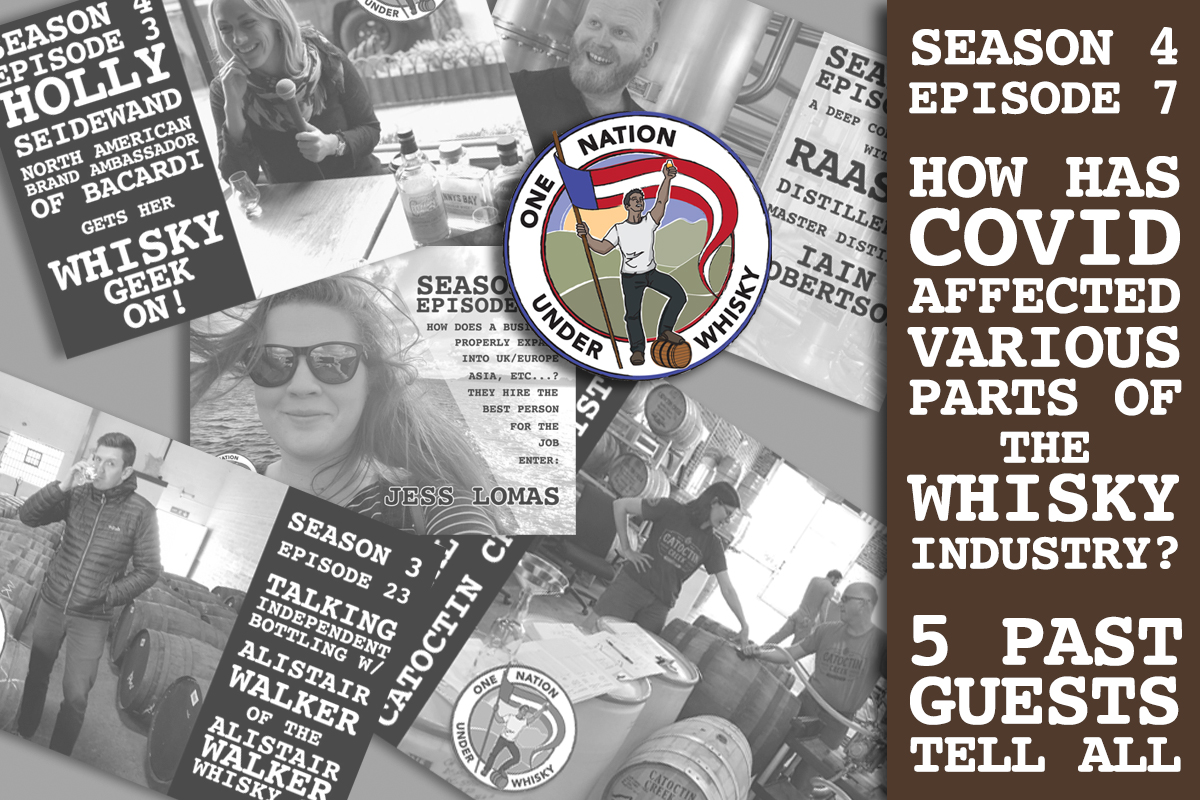 One Nation Under Whisky
Season 4, Ep 7 -- 20 May, 2020
How has Covid affected the whisky industry? five past guests tell all
Nowadays is difficult to discuss anything without pointing out the elephant in the room: Covid-19. Joshua and Jason decided "why ignore the elephant in the room? Let's discuss Covid-19 with some recent guests to see how it's affected their whisky-work and life.
The boys discuss all this with previous guests: Iain Robertson of Raasay Distillery, Alistair Walker of the Alistair Walker Whisky Co (Infrequent Flyers), Holly Seidewand of Bacardi, Scott Harris of Catoctin Creek Distilling Co, and Jess Lomas of Single Cask Nation.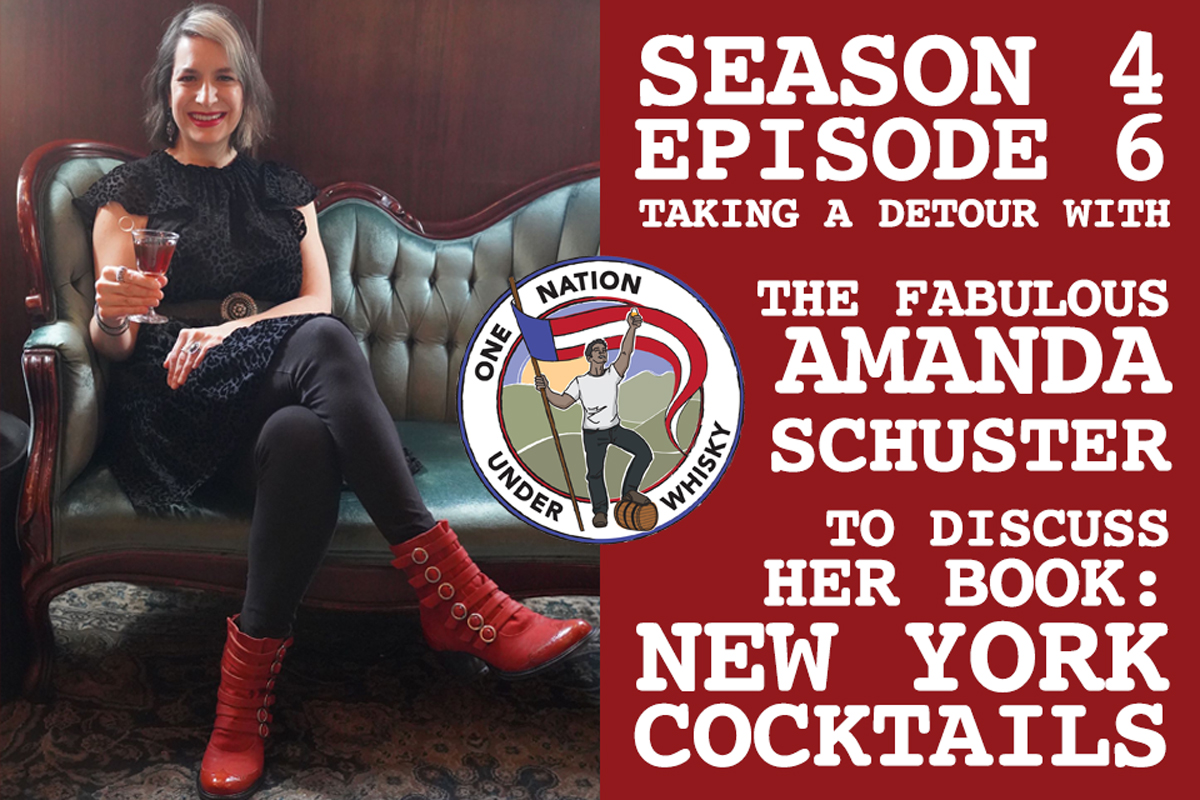 One Nation Under Whisky
Season 4, Ep 6 -- 6 May, 2020
Discussing her book, New York Cocktails, with Amanda Schuster
With most humans staying home to stay safe (and keep others safe) it kinda makes sense that more and more people are becoming cocktail-curious! Enter: Amanda Schuster, Editor in Chief at The Alcohol Professor. Back in late 2017 Amanda released one of Joshua's go-to cocktail books: New York Cocktails: An Elegant Collection of over 100 Recipes Inspired by the Big Apple.
Listen in as Amanda talks about the work that went into the book itself along with how New York has changed due to Covid-19. Hear her talk, too, about a follow up book she's working on and plans to complete AFTER the lockdown is over.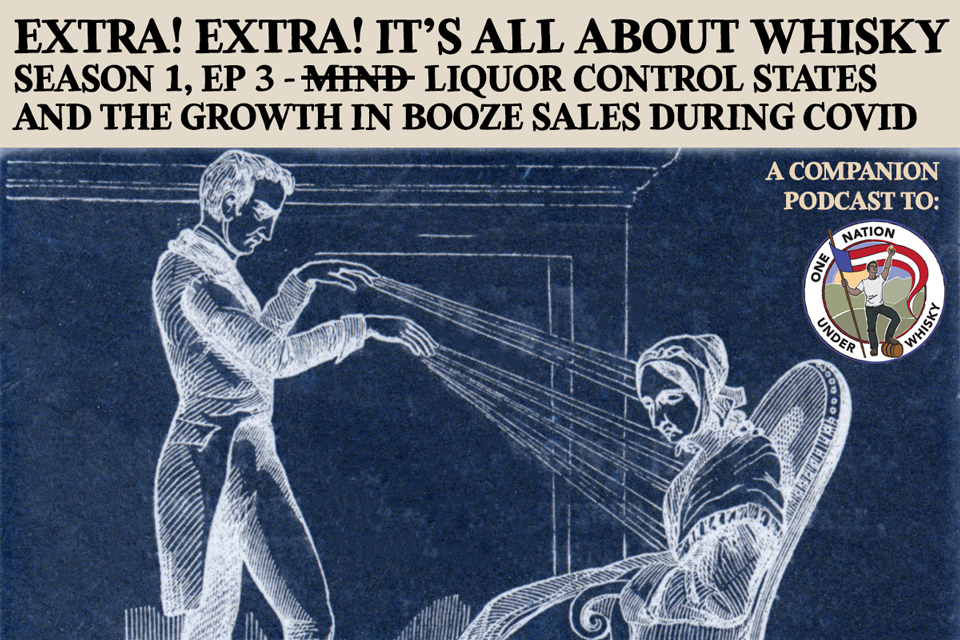 One Nation Under Whisky presents "Extra! Extra! It's All About Whisky!!"
Season 1, Ep 3 -- 29 April, 2020
Booze sale are booming in control states but are sales booming for whisky?
On today's episode of EEIAAB, Jason uncovers a story about the massive growth in booze sales in Liquor Control States. Does that mean whisky sales are booming? Well, yes but, not really...
One Nation Under Whisky
Season 4, Ep 5 -- 22 April, 2020
Mark Watt, Kate Watt, and Jess Lomas interview Joshua & Jason
One day Jess Lomas was visiting with Mark & Kate Watt in Campbeltown. After Kate went off to sleep Jess and Mark proceeded to drink Belgian beers until 3 or 4 in the morning. During this time the two conceived of a plan to take this podcast hostage and host a show where they interview Joshua and Jason.
Today's episode is the result of a successful podcast takeover. We hope you enjoy!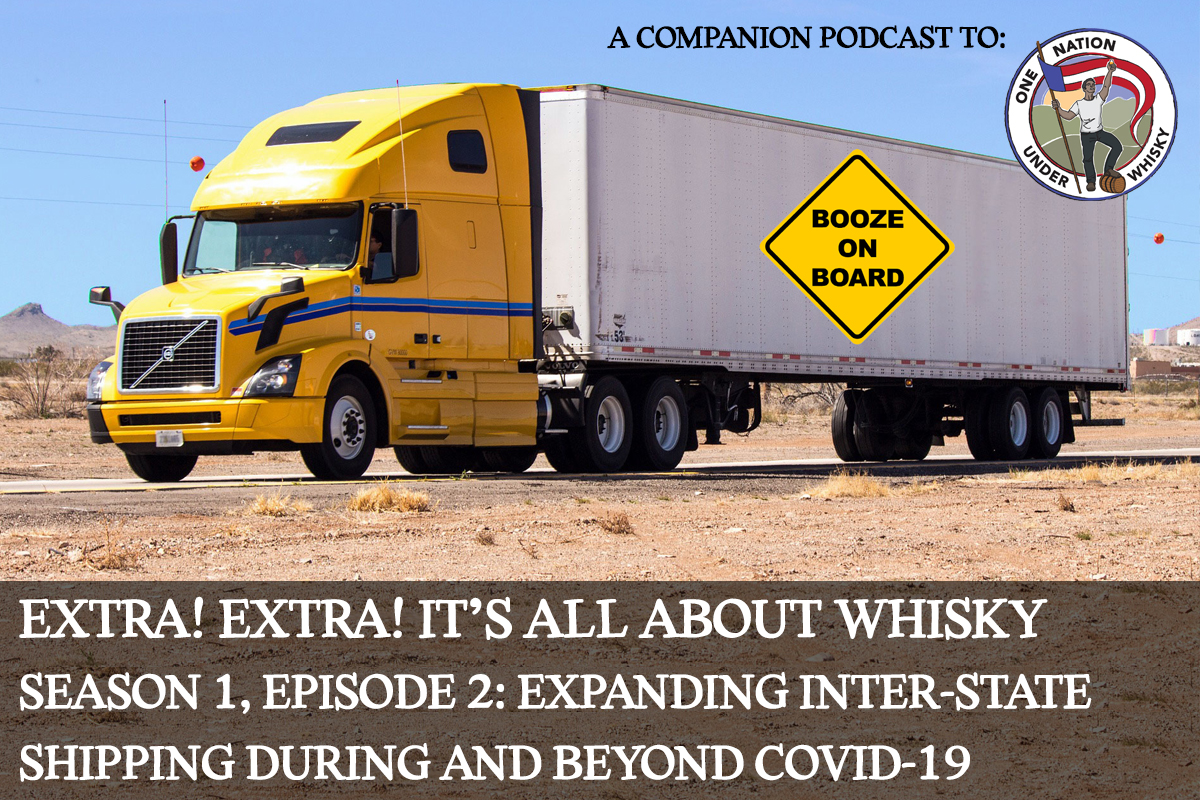 One Nation Under Whisky presents "Extra, Extra! It's All About Whisky!!"
Season 1, Ep 2 -- 15 April, 2020
Expanding inter-state liquor shipping laws
See?! We told you it wasn't an April Fool's Day Joke! Episode 2 is now here. This is a real thing!
Listen in as Joshua and Jason discuss the expansion of inter-state shipping laws during and beyond the Covid-19 Pandemic. Don't worry, it's not *all* fun and games with the talk of shipping. There are some serious dick jokes in there, too.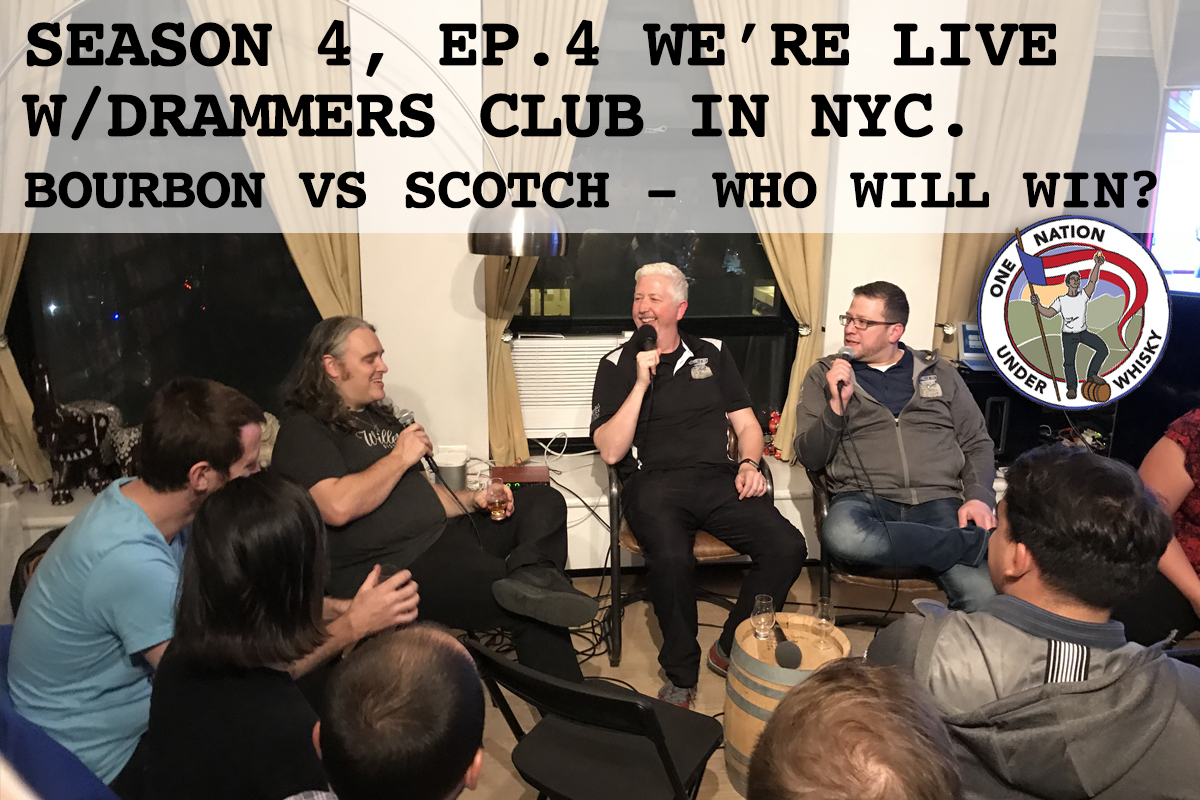 One Nation Under Whisky
Season 4, Ep 4 -- 8 April, 2020
Live Podcast with Drammers Club!
Remember that time when folks used to gather in larger groups and enjoy one another's company? That might seem like a distant memory but this podcast episode proves that we did, as a species, enjoy one another's close and personal company, especially when accompanied with a whisky or 5!
Listen in as Charlie Prince, the Prince of whisky clubs, argues with Joshua and Jason about which spirit is the best in the world: Scotch or bourbon.
Some special guests joined the discussion: Holly Seidewand of Bacardi (as well as our last interview), Robin Robinson (another previous guest), Bill Thomas of Jack Rose in DC, and Dave Schmier of Proof and Wood (who, btw, is the person who developed Redemption Rye some 10 or 11 years back).
One Nation Under Whisky presents "Extra, Extra! It's All About Whisky!!"
Season 1, Ep 1 -- 1 April, 2020
Extra, Extra! It's All About Whisky!!
We promise you -- this is not an April Fool's Day joke!
Something new for fans of One Nation Under Whisky: Extra, Extra! It's All About Whisky!!
A bi-weekly podcast where Joshua and Jason from One Nation Under Whisky will focus on 2 whisky news stories, from the whisky world writ large, that they find interesting and discussion worthy.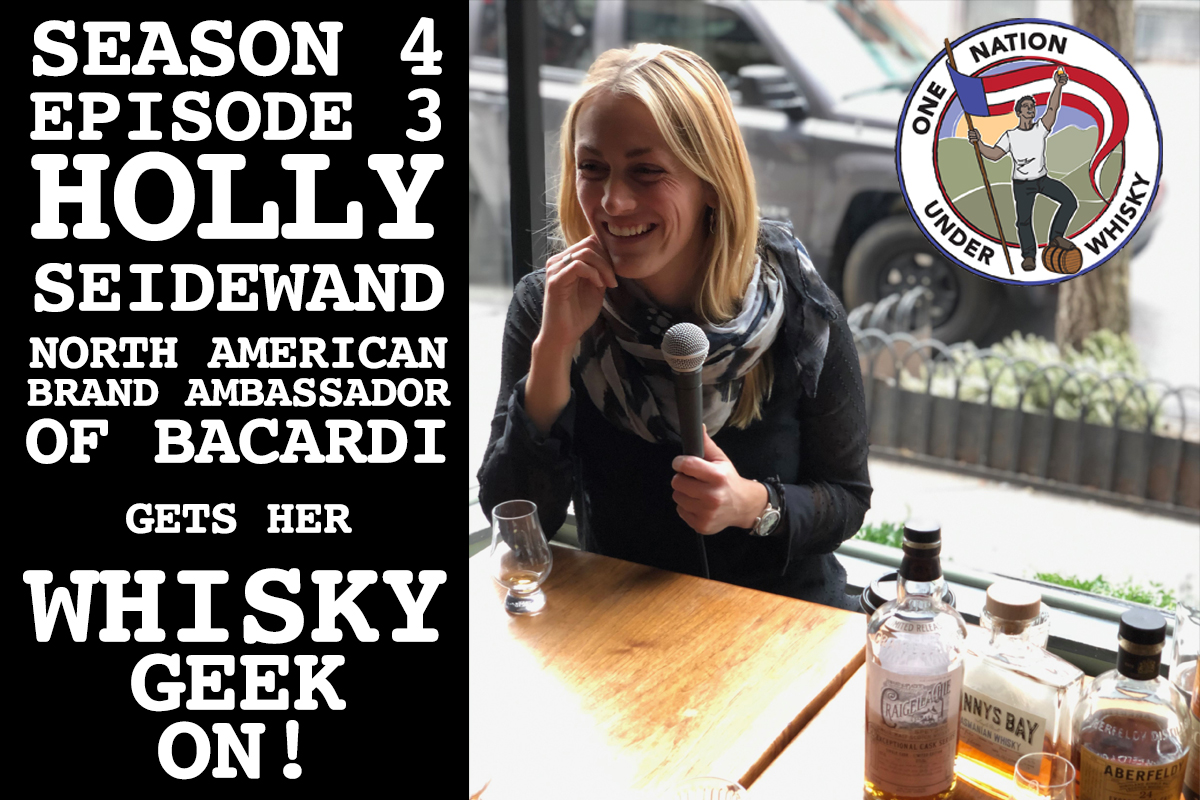 One Nation Under Whisky
Season 4, Ep 3 -- 25 March, 2020
Holly Seidewand North American Brand Ambassador, Bacardi single malt distilleries
Joshua and Jason asked themselves, "what is it like promoting distilleries that have been around for a couple hundred years providing malt whisky for blends but has only *just* started releasing their own whiskies as single malt?"
There was only one way to find out -- ask the person who's in charge of brand awareness for Craigellachie, Aultmore, Aberfeldy, Macduff, and Royal Brackla in the US: Holly Seidewand. Listen in as Holly gets really, really geeky about the brands she reps as well as the whisky industry as a whole!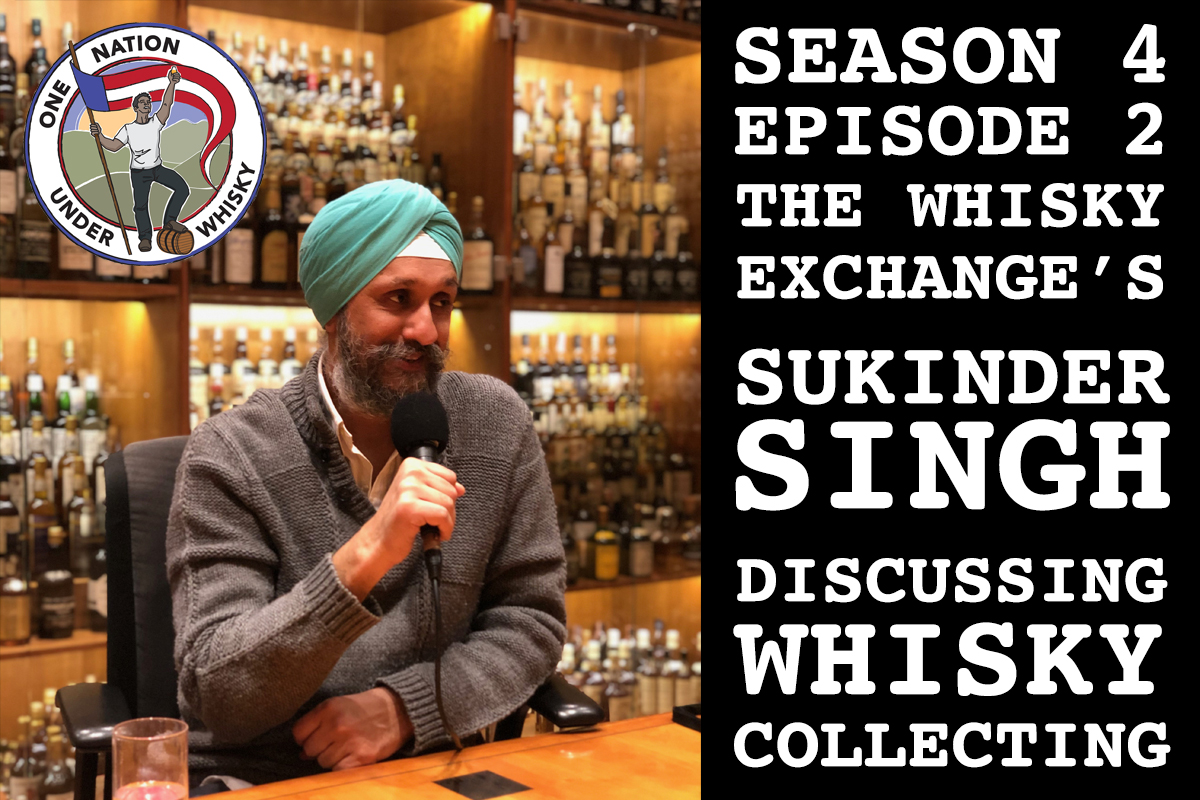 One Nation Under Whisky
Season 4, Ep 2 -- 11 March, 2020
Sukinder Singh discusses Whisky Collecting
Quite possibly the biggest name in the whisky world, Sukinder Singh is a good many things. His personal life aside, from a professional standpoint, he owns and operates the worlds largest online retailer of whisky, The Whisky Exchange; he owns the UK's largest drinks distribution company, Speciality Drinks; he runs The Whisky Show in London and co-runs the famous "Old & Rare" Show; he owns a good many Independent Bottling labels such as Port Askaig and Single Malts of Scotland... the list can go on.
Interestingly Joshua and Jason discussed none of this. Rather the conversation led the trio to the topics of Whisky Collecting, Auctions, and Whisky Fakes (faked bottles). Mr. Singh is likely the world's biggest collector of Scotch Whisky (and could well have the largest collections of individual bottles at 12 or 13 thousand) and has likely been collecting longer than most people. This is easily one of the most interesting conversations Joshua and Jason had about whisky.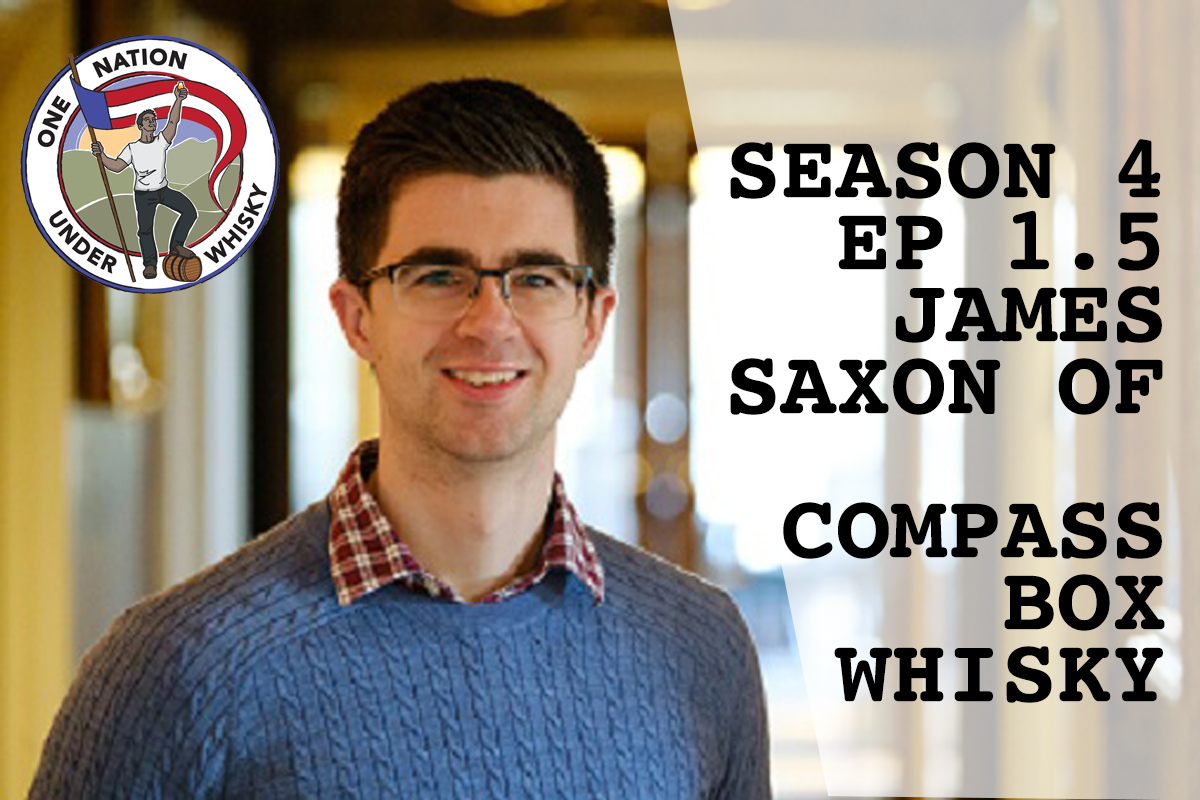 One Nation Under Whisky
Season 4, Ep 1.5 -- 4 March, 2020
James Saxon of Compass Box!
Joshua and Jason spent a little time with James Saxon, Blender at Compass Box Whisky, to discuss his whisky evolution and go into depth to James' blending process.
If we were you, we'd grab a whisky and have a sit and listen in. James does a great job in sharing some of the details of the ins and outs of the art of blending...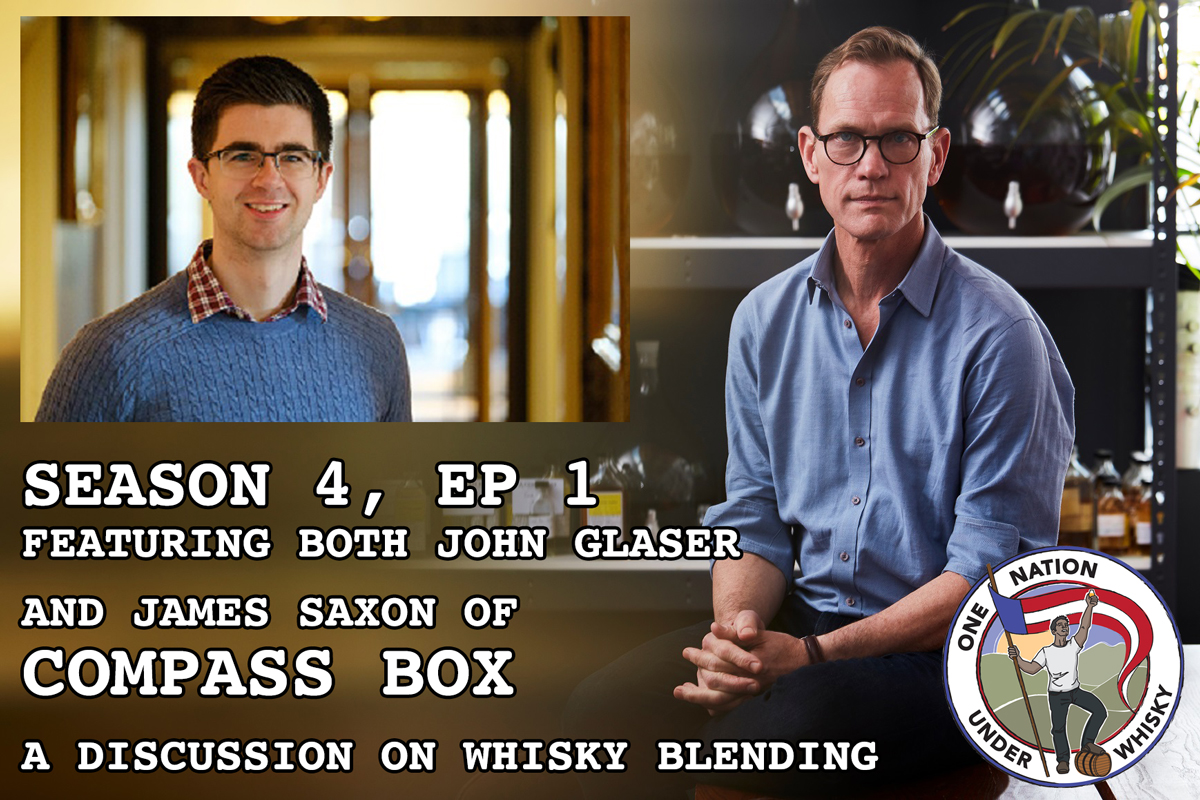 One Nation Under Whisky
Season 4, Ep 1 -- 26 Feb, 2020
John Glaser & James Saxon of Compass Box!
When it comes to the world/thought/idea(s) behind modern whisky blending companies few, if any, are as well known or well regarded as our friends at Compass Box. No one in modern history has been able to capture the imagination around blended whisky in the way that John Glaser and team have done and continue to do.
Joshua and Jason have an in-depth conversation with both John & James (wait, that's like 4 J's there!!) regarding the art and passion behind blending whisky. The boys also discuss the rules the SWA (Scotch Whisky Association) have laid down (and how Compass Box and other are challenging some of these laws).
This was truly a fascinating conversation and we're over the moon that we can share it with you all.